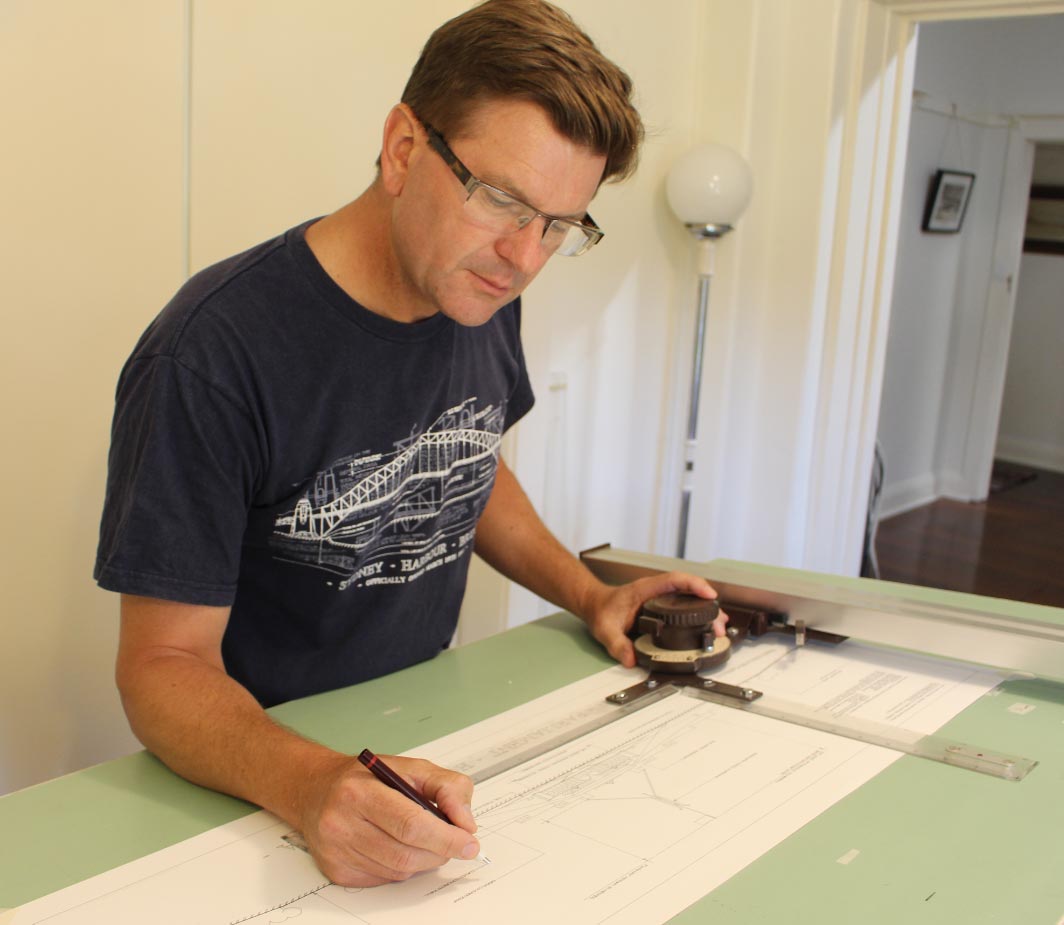 These prints are of drawings  skillfully drawn by architectural drafter David Henderson who has worked in the architectural profession for over 25 years. Since 1997 Architectural Prints have sold nearly 20,000 high quality prints and t-shirts to customers all over the world.
David was the winner of the 1999 Royal Australian Institute of Architects 'Mary Mahoney Griffin Measured Drawing Competition'- a national Australian award testing the skill of measuring a building and representing it accurately on drawings. This award winning work is now held in the National Archive, Canberra. Architectural Prints have also appeared numerous times on film and television productions.
FAMOUS LANDMARK ICONS     These architectural prints are an artistic interpretation of iconic structures and locations. Various pieces of anecdotal information about the structure and it's surrounds have been gathered and pieced together in a traditional architectural presentation style.
Each of these drawings is reproduced using a quality off-set printing process and is printed on thick 170 gsm paper. The prints will be delivered in a protective cardboard tube.
CHARACTER HOME DRAWINGS     Now you can own an original Architectural drawing of your family home!
Architectural Prints have produced prints of famous landmark structures that hang in many different places all around the world- and now it is time for me to draw Your Home. Show off the character home that you and your family love with an original hand-drawn Architectural style drawing by an award winning Architectural Drafter.
Preserve the heritage, capture the charm and presence of your character home in pencil and ink. A great bespoke memento of the family home that will be a keepsake for future generations. All types of houses drawn, from 19th century elegance through to 1960′s and 70′s modern, and everything in between.
If I can not come to your home in person, with some help from you and using satellite technology, it is possible for me to draw a character home anywhere in the world.
Pricing starts from $AU195 for a typical suburban single storey home and includes an original scaled pencil and ink line drawing on 27cm x 18cm brown parchment style paper presented in a black frame 40cm x 30cm with a white mat board, delivered. Larger homes, mansions and two storey houses from $AU295, depending on size and includes all of the above but presented, at the same scale, on a larger paper size of 34cm x 29cm in a 50cm x 40cm black frame.
Contact me now by SMS or Call  0478 794 335, or by email at david@architecturalprints.com.au, or facebook /architectural prints.